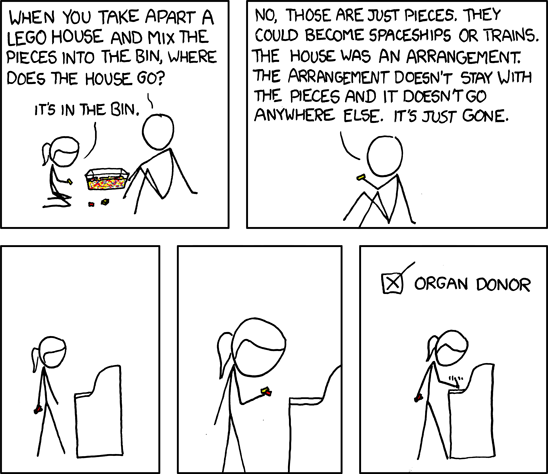 First, let me just say that if you don't read
xkcd webcomic
, then you are missing something. The comic is funny, geeky, and just plain smart. But every once in a while the comic is also deep. Friday was one of those days.
I think when I got my driver's permit in Alaska I wasn't an organ donor. But I was 14 and wasn't very aware. The first thing I did when I got my permit in Kentucky was have the lady at the DMV and my mom sign as witnesses that I wanted to be an organ donor. My Kentucky license and Minnesota license say the same thing. I am a proud organ donor.
If you want to be an organ donor and your driver's license doesn't indicate such, go to
www.organdonor.gov
to learn more about how to let officials know that you're a donor. If you don't know if you want to be an organ donor, think about it and talk to friends and family about it.
There are other ways to help too. I try to give blood when I'm able (and when they'll take me... I need more iron in my diet most of the time) and I'm also on the
Be the Match Registry
for the National Marrow Donor Program. They need more people in their database as potential bone marrow donors and while it is definitely a commitment far above and beyond blood donation it is much less than organ donation. And all three can be done together.
So that's my call to action for you today. You don't have to do anything you're uncomfortable with, but if you were planning to get around to being in the Be The Match Registry or becoming an organ donor, you should do it today. And if you (like me) have been meaning to go to the blood bank and donate blood, go do it! I now have an appointment to donate blood scheduled for Monday.